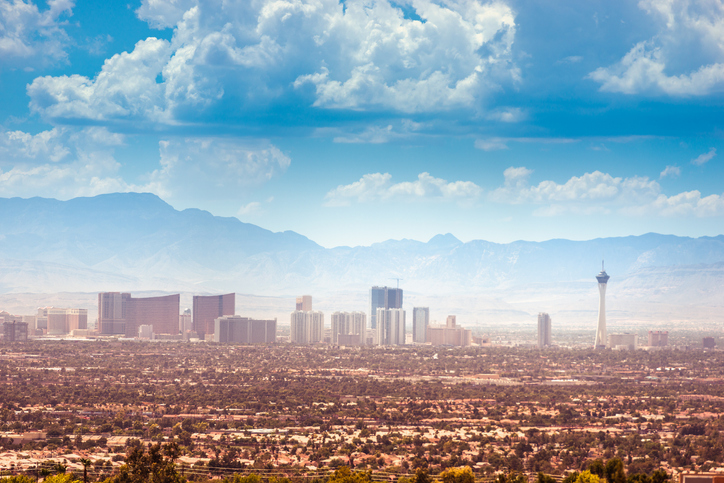 Las Vegas is inarguably one of the finest and most vibrant cities in the world. It is considered by most as a world-class destination for tourism and entertainment. But insiders and residents know that Las Vegas is also a city where fast-paced living and an upscale lifestyle are the norm. It also continues to be one of the fastest-growing cities in the United States, with plenty of opportunities to live, work, and play.
Whether you're buying a property for the long haul or you're looking for your next investment, this will show you that Las Vegas real estate should be your next purchase:
Las Vegas has a thriving economy

Buying a home in Las Vegas is ideal due to its booming economy. After having been among the hardest-hit U.S. cities during the 2008 global recession, Las Vegas has bounced back and now it's stronger than ever. Employment opportunities increased, bigger and better establishments were built, and Las Vegas' population grew over the years. Realtor.com also named Las Vegas as the country's number one real estate market in 2018.

That's why buying a home in Las Vegas is a good financial decision. Las Vegas real estate offers great returns, especially for investors of rental properties.

Housing in Las Vegas is abundant and affordable

If you're looking for residential real estate properties in Las Vegas, you have plenty to choose from. The city's rising housing inventory includes properties such as single-family homes, apartments, condominiums, and new construction homes. As of November 2018, around 7,000 single-family homes for sale in Las Vegas, NV were made available in the market. The Las Vegas Review-Journal states that while around 2,300 houses were purchased last November, buyers were still left with a huge inventory of homes to choose from.

Las Vegas also has a huge number of available apartment complexes and units throughout the city. These properties in Las Vegas may be affordable but they're still well-maintained and of high quality.

Las Vegas is a tax-friendly city

Nevada is one of seven U.S. states with no personal income tax. It also doesn't impose any inventory tax, corporate tax, or franchise tax, although the state does have a pretty high sales tax of 8.25%. The Nevada state also has one of the lowest property tax rates in the U.S.

Las Vegas offers year-round recreational opportunities

In Las Vegas, residents can engage in various indoor and outdoor recreational activities such as hiking, kayaking, golfing, shopping, and many more.

For the outdoorsy individual, there are several spots in this city to visit like the Red Rock National Recreation Area, the Raintree Trail in Mount Charleston, and the River Mountains Loop Trail along Lake Mead. With the number of activities and establishments offered in Las Vegas, it's not hard to see why buying a home in this city is a must.

Las Vegas has an emerging sports scene

Las Vegas is known for hosting huge sporting events, especially when it comes to heavyweight boxing championship matches. But now, we see this dynamic city at the forefront of the American sports scene.

The city is currently home to NFL hockey team, the Vegas Golden Knights. The said team is heating up the ice with strong showings each season. Check out their winning moves against Canada's Calgary Flames here.

But the biggest buzz in sports these days is the relocation of the Oakland Raiders from its former base in California to Paradise, Nevada. Excitement in the area is so huge that residents are rushing to snag new Raiders Nevada specialty license plates as soon as their availability was announced.

Las Vegas has high-quality schools

Las Vegas is home to several excellent public and private elementary, middle, and high schools. These schools offer top-notch education, along with excellent academic and extra-curricular programs.

In addition, the recently established University of Nevada Las Vegas School of Medicine is an exceptional institution for medical education, patient care, and research.

Las Vegas is perfect for rentals

If you plan to rent out your property in the future, you are in for a great ride. Las Vegas receives around 40 million tourists every year – imagine getting on the rental property trend here to get a slice of the tourist pie. Employment opportunities have also increased here, with a 2.9% growth in jobs.

It's time to take advantage of the opportunities presented by owning rental property, especially with the market for this at an all-time high. According to the Las Vegas Review-Journal, apartment rents in this city have increased by 8.1% from the previous year. This growth shows that more who live, work, or visit the area are now considering renting a home. Southern Nevada, in particular, has a 4% vacancy rate, which shows strong rental sales.
Leading Vegas Realty is your team of local experts when it comes to buying or investing in Las Vegas real estate. Learn more about buying real estate in Las Vegas by calling us at 1-702-545-6050. You may also send an email to Emily(at)LeadingVegas(dotted)com.

Read More: 7 Reasons why people are moving to Las Vegas