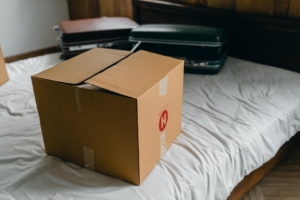 Downsizing is a beautiful way to simplify your life, improve your financial standing, and begin an exciting new chapter full of possibility. But it can also be an overwhelming experience that ends up making you wonder if it was worth all the time and energy you invested into it!
Thankfully, there are some tips, tricks, and tech that can help ensure your downsize goes smoothly and sets you up for a bright future. Below, we share some examples!
Getting Rid of Your Stuff
It might seem like a difficult task, but decluttering your belongings can significantly ease your relocation stress and simplify your life in the new home.
● Go through every room and space in your home, and put your belongings into one of four piles: keep, donate, sell, or trash.
● If you don't have room in your new home for specific items, consider selling them online. There are plenty of apps and sites to help your cause!
● If you want to contribute to your community, find a local charity where you can donate some of your belongings.
Boosting Your Home's Appeal
Before you make the trek to your smaller home, you must get your current home ready for a quick and profitable sale.
● Make sure your landscaping is in tip-top shape so that the property impresses buyers.
● Depersonalize your home's interior so potential buyers can picture themselves living there.
● Use the wide range of interior design apps and sites available for ideas on easy upgrades you can make.
Senior-Friendly Tech
If you're in your golden years, you deserve a smooth downsize experience from beginning to end, and these tech tips can help:
● Research the various apps that can help you organize and manage your relocation.
● Take advantage of software that helps you digitize your paper documents and and combine PDFs. This will secure your important information and keep the clutter to a minimum as you relocate.
● Use digital marketplaces to connect with local services (e.g., contractors, electricians, plumbers, etc.) that can help you settle quickly into your new home.
● Keep up with friends and family during your move through video chat.
Who says downsizing has to be daunting? By decluttering your belongings, preparing your current home for sale, and using tech tools, you can remove a lot of the stress and headache that often comes with downsizing. Keep learning other ways to make your relocation go smoothly, and you'll be settling into your new, simplified life in no time!
Are you looking for a top-notch real estate agent in Las Vegas? Contact LeadingVegas.com today!
Suzie Wilson, Writer